Dinamika Produksi Media Cetak dan Tantangan Industri Pers di Indonesia
Keywords:
Produksi, Media Cetak, Industri Pers
Abstract
Abstract
The flow of reader communication channels in print media is now shifting to online media so that media literacy changes from reading to merely hearing and watching. The rapidly developing Information Technology undermines the dominance of single media print (just reading and the response cannot be instantaneous) into a multimedia online media (reading, listening, writing, seeing, moving quickly). Emerging shifts in consumer behavior to use new media using an internet connection also make it a habit not to use traditional media as a formidable challenge for the development of print media. Even though online media cannot be traced by a whole person because there are some locations that are slow or even have no internet connection. Print media survive with the presence of online media by seeking various ways, one of which uses media convergence.
Keywords: Production, Print Media, Press Industry
Abstrak
Arus saluran komunikasi pembaca di media cetak sekarang bergeser ke media online sehingga literasi media berubah dari reading menjadi sekedar hearing dan watching. Teknologi Informasi yang berkembang pesat meruntuhkan dominasi  media cetak yang single media (sekedar membaca dan respon tidak bisa seketika) menjadi media online yang multimedia (membaca, mendengar, menulis, melihat, bergerak dengan cepat). Muncul pergeseran perilaku konsumen untuk menggunakan media baru yang memakai koneksi internet juga membiasakan diri tidak menggunakan media tradisional menjadi tantangan berat bagi perkembangan media cetak. Walaupun media online tidak bisa ditelusuri oleh keseluruhan orang sebab ada beberapa lokasi yang lambat  bahkan tidak ada koneksi internetnya. Media cetak bertahan dengan hadirnya media online dengan mengupayakan berbagai cara, salah satunya menggunakan konvergensi media.
Kata kunci : Produksi, Media Cetak, Industri Pers
Downloads
Download data is not yet available.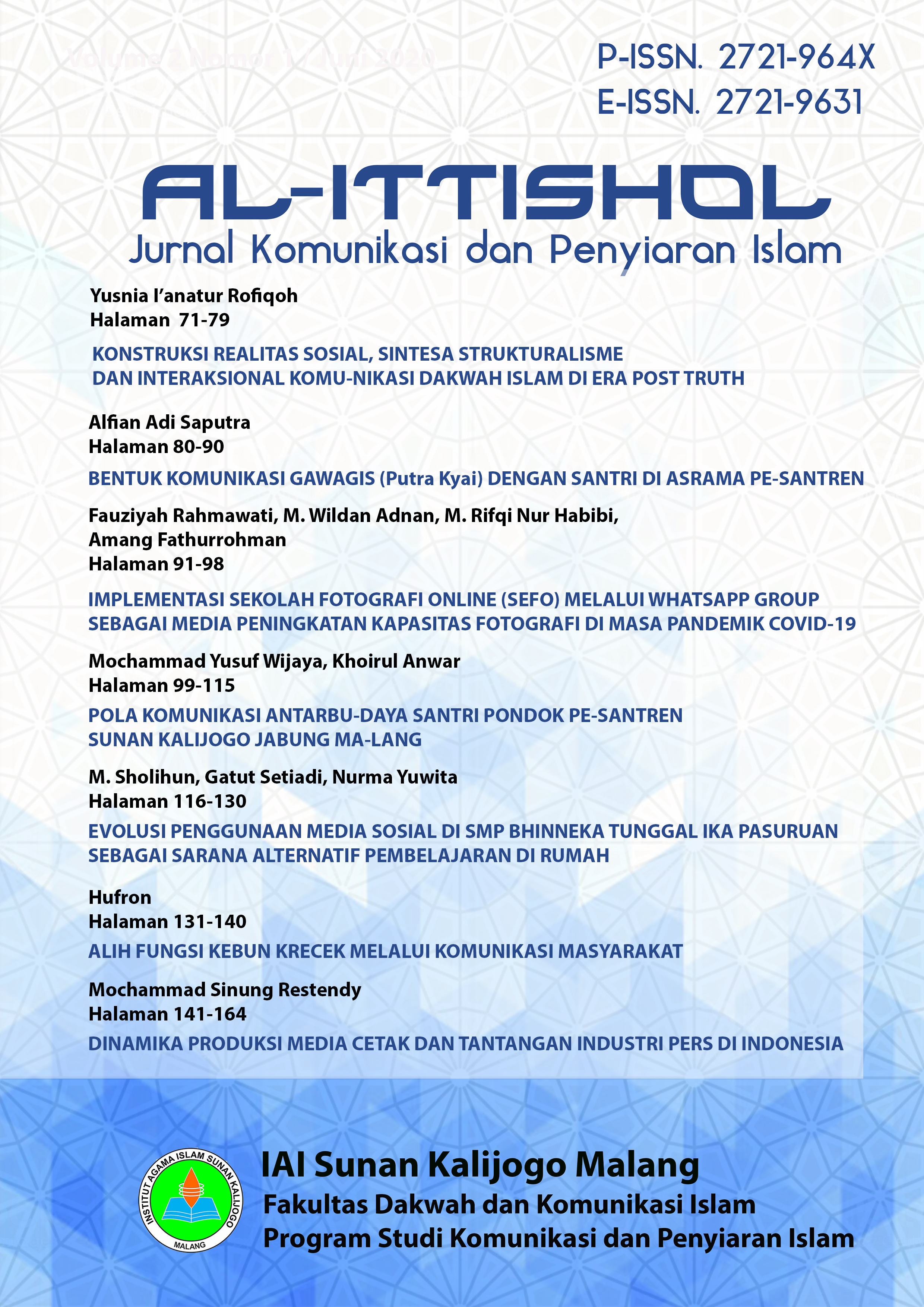 Downloads
How to Cite
Mochammad Sinung Restendy. (2020). Dinamika Produksi Media Cetak dan Tantangan Industri Pers di Indonesia. Al-Ittishol: Jurnal Komunikasi Dan Penyiaran Islam, 1(2), 141–164. Retrieved from https://ejournal.iaiskjmalang.ac.id/index.php/ittishol/article/view/166