Budaya Komunikasi pada Pengguna Media Sosial Facebook di Era New Media
Keywords:
Budaya komunikasi, media sosial, facebook, new media, media baru, digital natives
Abstract
Abstract
Social media is the main choice in establishing social interactions in cyberspace in this new media era. The Facebook application as one of the contemporary social media is widely used by Digital natives. As a creative generation in using technology, Digital natives use Facebook as a medium of communication today. Facebook users who are increasing and used continuously have formed a habit that eventually becomes a culture of communication.
This research is a qualitative research with a constructivist paradigm that uses a virtual ethnographic research approach. Virtual ethnography is an approach that aims to observe behavior patterns, patterns of life and social relations in virtual life in cyberspace. This study is to determine the communication culture of Digital natives on the use of social media Facebook. And to find out the communication culture formed from the use of Facebook by Digital natives.
Keywords: Culture, Communication, New Media, Facebook, Digital natives.
Abstrak
Media sosial menjadi pilihan utama dalam menjalin interaksi sosial di dunia maya pada era media baru ini. Aplikasi facebook sebagai salah satu media sosial kekinian banyak digunakan oleh Digital natives. Sebagai generasi kreatif dalam menggunakan teknologi, Digital natives memanfaatkan facebook sebagai media komunikasi saat ini. Pengguna facebook yang semakin meningkat dan digunakan secara terus menerus telah membentuk sebuah kebiasaan yang pada akhirnya menjadi budaya dalam berkomunikasi.
Penelitian ini merupakan penelitian kualitatif dengan paradigma konstruktivis yang menggunakan pendekatan penelitian etnografi virtual. Etnografi virtual merupakan pendekatan yang bertujuan untuk mengamati pola-pola perilaku, pola kehidupan dan relasi sosial dalam kehidupan virtual di dunia maya (cyber) Penelitian ini hendak mengkaji tentang, perubahan dan budaya komunikasi Digital natives pada penggunaan facebook di era media baru, sedangkan Tujuan dari penelitian ini adalah Untuk mengetahui budaya komunikasi Digital natives pada penggunaan media sosial facebook. Dan untuk mengetahui budaya komunikasi yang terbentuk dari penggunaan facebook oleh Digital natives.
Kata Kunci : Budaya, Komunikasi, Media Baru, Facebook, Digital natives.
Downloads
Download data is not yet available.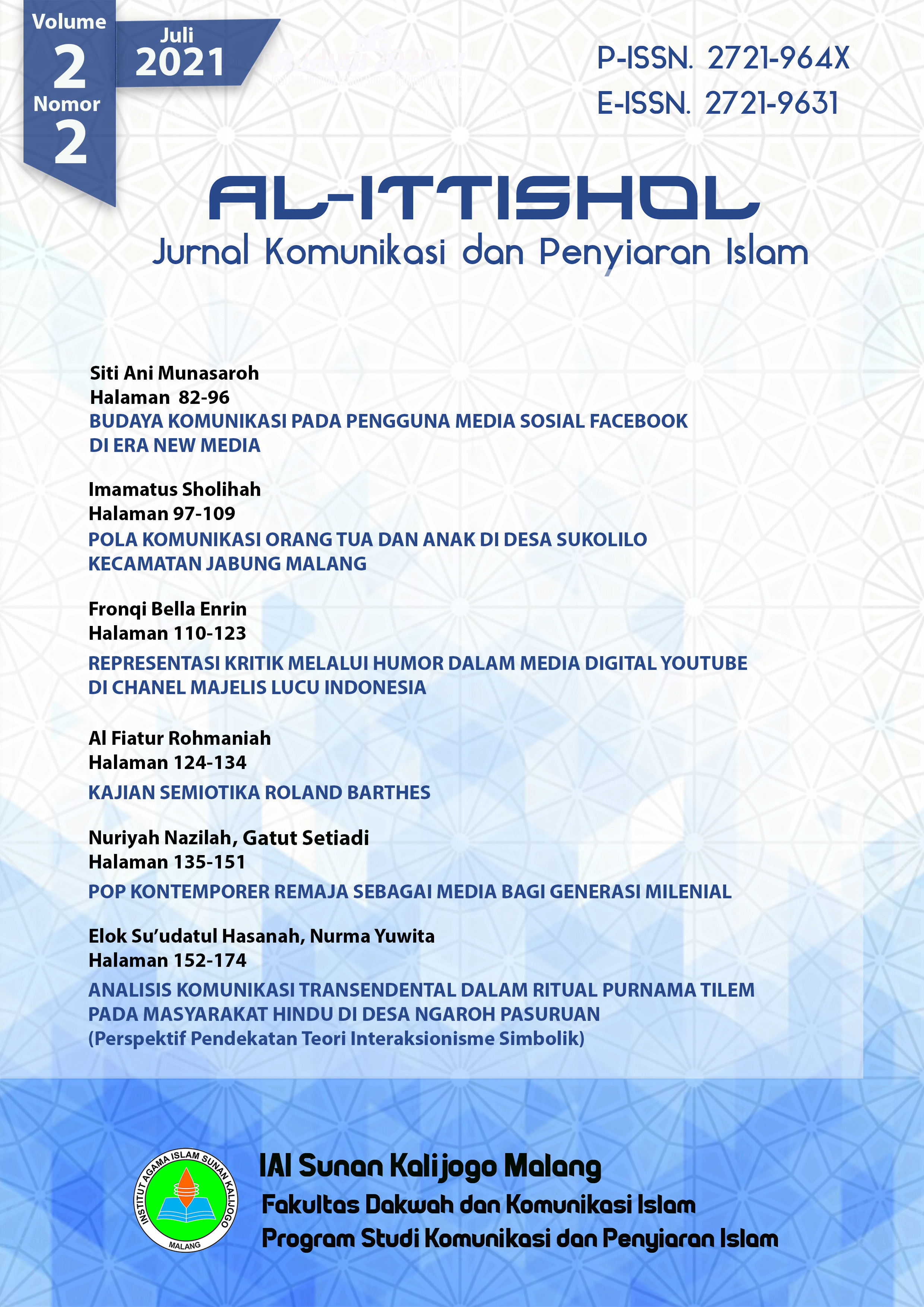 Downloads
How to Cite
Munasaroh, S. A. (2021). Budaya Komunikasi pada Pengguna Media Sosial Facebook di Era New Media. Al-Ittishol: Jurnal Komunikasi Dan Penyiaran Islam, 2(2), 82–96. https://doi.org/10.51339/ittishol.v2i2.309